In the far west of New South Wales, Broken Hill is a town built on its mining heritage where every street is named after a chemical or mineral. After a six hour drive from Adelaide, I arrived there in mid-October to meet Colin Clare - land-owner, sheep-farmer, carob-grower and a local resident with great experience of the outback country and its plants.
Luckily for me, early rains had brought the best display of Spring flowers for twenty years. The dry, red dust had become a carpet of blooms.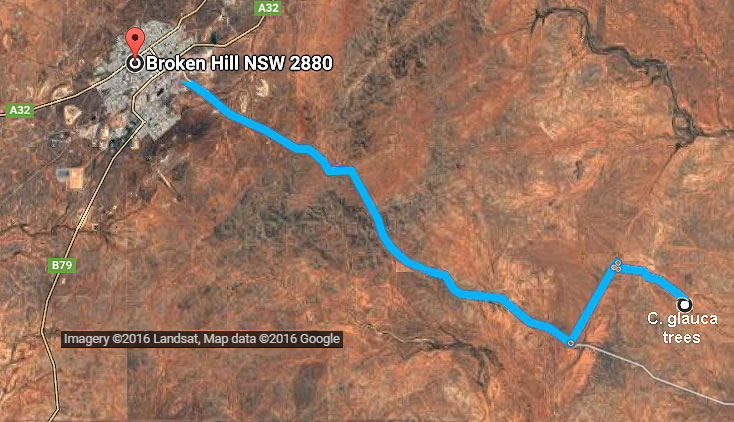 Colin had offered to take me to a stand of Desert Lime trees on a friend's property some 35 kms south-west of Broken Hill.
We set off on the Menindee Road, then turned onto unsealed tracks for the last 5kms or so. At times I couldn't even see any track but Colin seemed to know where he was going. We eventually arrived at a large group of trees varying in height from perhaps 8-10 metres down to tiny suckers.
To the untrained eye there seemed no special reason for these Desert Lime trees to be in this particular area.
-32.066126, 141.756401
See GPS location - click below:

All the tall trees in the photos are Citrus glauca. Although we couldn't find any fruits at this time of year, there were some flower buds. The trees appear to spread by suckering from the roots - there were lots of small, spikey suckers, some quite some distance from the parent tree. The whole patch of these trees was around 300 metres across.
page constructed 21Nov16
---
Click these links!
---
---
Paterson's Curse (Echium plantagineum) a pretty but invasive introduced species, common along road margins.
The spectacular native flower Sturt's Desert Pea.