---
Click these links!
---
Lamington National Park is a region of temperate rainforest in the mountainous border area between south-eastern Queensland and New South Wales. I stayed in the privately-owned O'Reilly's Guest House which is reached by a long twisting road through the hills. At one point the vegetation changes in just a few metres from dry, eucalyptus, savannah country to dense, damp forest.
I had visited Lamington N.P. in the year 2000, and had greatly enjoyed the walking tracks and the environmental programmes arranged by the knowledgeable staff at O'Reilly's. I enjoyed them again this time, although my ageing legs seemed to ache more easily.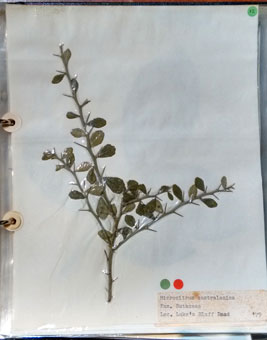 A book of pressed plants in the guest house library dated from 1979. It confirmed the presence of Finger Limes along the track known as Luke's Bluff Road. This was where I had found the species on my previous visit, but this time I added two more locations.
Luke's Bluff Road.
This is the unsealed road to the O'Reilly farmhouse. There is a gate along the road where the forest ends and the grassland starts. There were several C. australasica on the southern side of the road about 60m before the gate. All within about 10m of the roadside.
GPS: -28.2212, 153.1198
Pat's Bluff Walk / Python Rock Track. Accessible from both walks. In the forest margins along the track - about 30m from some wooden benches.
GPS: -28.22616, 153.1203
Morans Falls Clearing Lookout.
From the clearing, head back towards the Morans Creek bridge. The Finger Lime is on the left of the path, about a third of the way along.
GPS: -28.2321, 153.1258
The wild specimens I found were up to about 8m tall with spindly trunks and sparse leafy growth mostly towards the top. They were good collectors of leafy debris falling from surrounding higher trees. All this made photos difficult in the dense forest.
I also found several small seedlings but no fruits or flowers.
This Map is from www.openstreetmap.org and is easily the best online map of the area. All the walks shown here are well-marked, around 1 hour from O'Reilly's and not difficult. There is even some parking along the Lamington National Park Road if you want to shorten them.
---
This is the Moran Falls tree. In the photo it is the thinner trunk, second from right, hidden at the bottom right but growing towards the top left. It shows the difficulty of photographing these small-leaved trees, even here where the track creates a clearing in the dark forest.
Photo far right is a seedling from the tall Moran Falls tree, this was growing just the other side of the path.
Below are two photos from Luke's Bluff Road. The examples here tended to be older and taller and the camera flash was required to see the leaves well above head height.
formerly classified as Microcitrus australasica, commonly known as Finger Lime