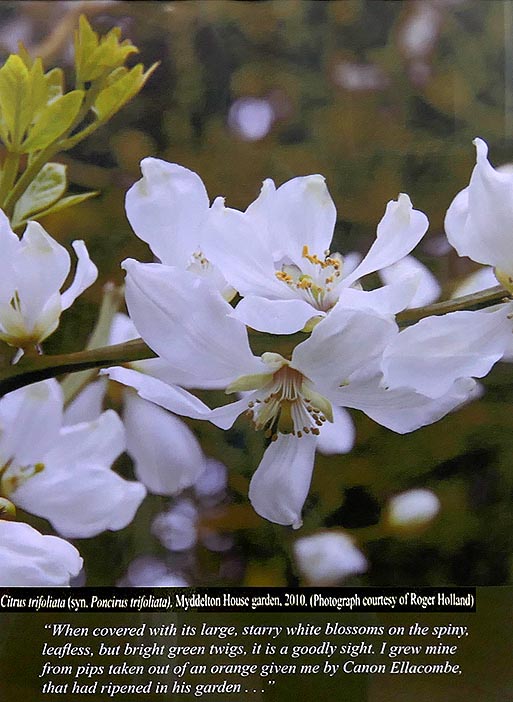 PONCIRUS TRIFOLIATA or CITRUS TRIFOLIATA at
MYDDLETON HOUSE GARDEN, ENFIELD, LONDON

Myddleton House was the home of the noted English gardener and gardening writer E. A. Bowles, 1865-1954.
The garden is now open to the public and contains a large and fruitful Japanese Bitter Orange.

When I visited in October 2017, there was a small exhibition of garden photos - the one of Poncirus trifoliata included a caption with text from one of Bowles' books stating that the seeds of this plant came from Canon Ellacombe. Now, Ellacombe was another noted plant collector who lived in the vicarage at Bitton, Gloucestershire - he died in 1916. Unfortunately, little remains of his garden.

Therefore the Myddleton House specimen must be over 100 years old, making it the oldest one I have seen in the UK and possibly anywhere else too - although the trees in Rue Buffon, Paris, are probably of similar age. The base of the trunk is about 30cms diameter. Overall it is about 3m high and 5m across.
page created 16Oct2017
---