Botanical Drawings and Leaf Shapes of
Australian Native Citrus
(formerly Microcitrus)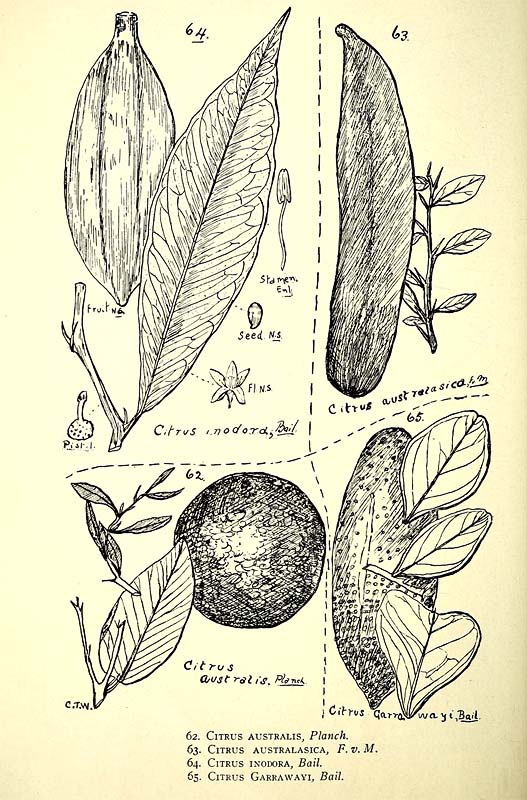 From Volume 1 of 'The Citrus Industry'
A-branch of Round lime
B-fruits of Round lime;
C-branch of Sydney Hybrid
D-fruits of Sydney Hybrid
E-branch of Finger lime with fruit.
This drawing is taken from the 1909 second edition of the book by F.M. Bailey entitled 'Comprehensive Catalogue of Queensland Plants Both Indigenous and Naturalised'.
It shows Citrus inodora, Citrus australasica, Citrus australis and Citrus garrawayi. Over the years these have been re-classified as Microcitrus, and then recently put back into the citrus family.
This is one of the very few pictures I have seen that include fruit of Citrus inodora and Citrus garrawayi. For size comparison I would guess that the Fingerlime (C. australasica) is about 6cms long.
Citrus inodora from
'The Queensland Flora - part1' by F.M.Bailey
published 1899
page re-created 20th Oct 2009, amended 26th Nov 2015
A. Citrus australis (Round Lime) - mature leaves
B. Citrus australis (Round Lime) - juvenile leaves
C. Citrus australasica (Fingerlime) -mature leaves
D. Citrus australasica (Fingerlime) - juvenile leaves